Phillies And Lefty Cole Hammels Agree To Six-Year, $144 Million Contract Extension!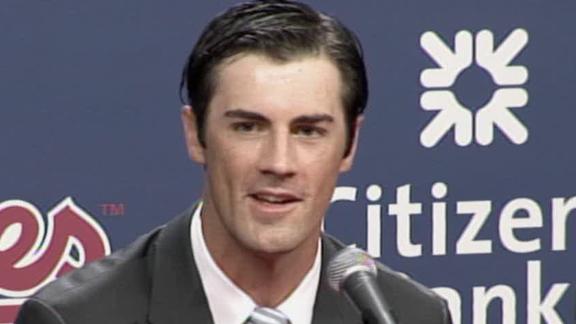 The Philadelphia Phillies and Cole Hammels ended a long run of negations between both sides finally this afternoon, as the team and the 28-year-old left-hander agreed to a six year, $144 million contract extension that goes into effect starting next season.
     Hammels could have tested the free agent market in November and admitted there was a part of him that wanted to test free agency, even if just to find out what his real market value really was, but he ultimately decided to stay not only because of the money but because of the chances at winning and playing in a comfort zone.
     The 28-year-old former 2008 World Series MVP said the real deciding factor on making him want to stay was the standing ovation he got in his last start this past Saturday after allowing five runs in what could have possibly been his final start as a Phillie at Citizens Bank Park. 
     "Words can't really describe the emotions that you get, and the way the fans were standing and cheering, that was ultimately the deciding point to be here," Hammels said.
     By accepting the deal Hammels also becomes the third Phillies starter to be making $20 million per season, joining Roy Halladay and Cliff Lee, who he said were also very instrumental in making him want to stay.  As they both like him took potentially less money to either come to or stay with the Phillies in the past few years.
     "Having Doc and Cliff, they are a big part of why I want to be here," he said.  "To be with two of the best pitchers in baseball and be able to go out there and have the confidence that you're playing with guys who are the most talented pitchers in baseball.  You can learn a lot from them and you can feed off them.  And when we got rolling, I think we have the confidence that no one can stop us."
     Many had speculated with the non-waiver trade deadline coming up that the Phillies would be sellers and possibly trade Hammels.  But that isn't necessarily the case as the five-time defending NL East champions that are currently stuck in last place after battling key injuries and inconsistency this season showed they aren't with Hammels extension that he deserves after being without the team's best starter so far this season with a 11-4 record to go with 3.23 ERA.       
     The team has played better since the All-Star break too and with all of their regulars back hope to make a run.  They began the day 91/2 games out in the wild-card standings.  If any team could do something like that it would be them with the rotation they have if they all start pitching up to par.  Of course they would need their bats to get going from their core players such as Ryan Howard, Chase Utley and Jimmy Rollins too.
Some info from The Associated Press was used in parts of this article.